VIDEO: Chargers Find New Way to Blow it After Getting TD Overturned Followed By Melvin Gordon Fumble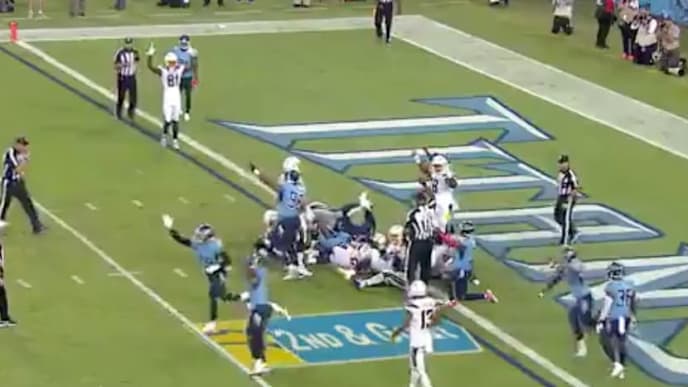 Same old Chargers. Despite their move from San Diego to Los Angeles several years ago, the culture is the same around this Dean Spanos-led franchise. On Sunday in Tennessee, Philip Rivers and Co. had every opportunity to win late, but of course found a way to blow it in the worst way possible. First, an Austin Ekeler catch and run looked to be a touchdown, only to be overturned with the ball being placed at the 1 yard-line.
Not a huge deal, though, right? With nearly 40 seconds remaining and the ball so close to the goal line, surely the Chargers had ample opportunity to punch it in. Not so fast!
Yes, the same Melvin Gordon who held out into the regular season with the hopes of getting a long-term contract worth $13 million per year fumbled into the end zone. Game over!
thetrending.org chargers VIDEO: Chargers Find New Way to Blow it After Getting TD Overturned Followed By Melvin Gordon Fumble
More News in Chargers
Apart from the performance of Hunter Henry, it felt like every other fantasy option for the Chargers disappointed last week. Philip Rivers ended up throwing two touchdowns in garbage time, but it was a
Back in Week 5 when Melvin Gordon played his first game since finishing his holdout things didn't look bad in Los Angeles. Gordon was going to be eased in, and Ekeler would supposedly
This is the online version of our morning newsletter, The Morning Win. Subscribe to get irreverent and incisive sports stories, delivered to your mailbox every morning. Week 7 of the NFL season kicks off with
CLOSE NASHVILLE -- The Titans are rolling with Ryan Tannehill. Tennessee is set to start Tannehill at quarterback over incumbent starter Marcus Mariota when it faces the Chargers on Sunday (3:05 p.m., CBS), according to NFL
An attempt to "Rick Roll" fans of the visiting Pittsburgh Steelers at the beginning of the fourth quarter Sunday instead wound up angering some Los Angeles Chargers players. The opening of "Renegade" by Styx -- the
The Los Angeles Chargers entered Sunday Night Football against the Pittsburgh Steelers already reeling from the previous weekend's humiliating loss to the Denver Broncos. Everything was set up for them to bounce back,