Latin AMAs 2019 Red Carpet Fashion: See Every Look as the Stars Arrive
Chelsea Lauren/Shutterstock
One word: fuego!
Music's biggest and brightest stars are setting the 2019 Latin AMAs red carpet ablaze with fun, flirty and fabulous fashion. If anything, the awards show is already proving to be an unforgettable one with the style and beauty looks alone.
Case in point? E!'s very own Erin Limbrought the glitz and the glamour wearing a sassy mini-dress and tiny sunglasses that are so on point at the moment.
Tonight's ceremony, which airs on Telemundo starting at 5 p.m. EST, promises to be bigger than ever thanks to appearances and performances from the likes of Becky G, Ozuna, CNCO, Daddy Yankee, Marc Anthony, Jason Derulo, and more!
Needless to say, you don't want to miss out... and it all starts with an epic red carpet extravaganza.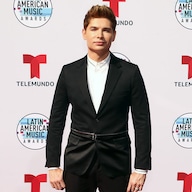 thetrending.org entertainment Latin AMAs 2019 Red Carpet Fashion: See Every Look as the Stars Arrive
Related News
An innocent question about Terrence Howard's vow to quit acting after Empire 's sixth and final season possibly opened the flower of life and certainly led to a metaphysical ramble from Lucious himself on the
Any time there's a gathering of handsome rich men in suits, like at last night's Emmy Awards, great watches are bound to be there. For many guys, a red carpet outfit isn't complete until they've
This year's Emmy Awards was filled with surprises. The show had viewers questioning why Ava DuVernay's " When They See Us" didn't get more awards than it deserved. Same with "Game of Thrones" stars
SINGAPORE - If there is one thing to take away from the 71st Primetime Emmy Awards that happened on Sept 22 night (Sept 23, Singapore time), it is that you can always bounce back from
The red carpet was turned a majestic shade of purple for Sunday night's 71st Primetime Emmy Awards. And celebrities arriving for the show embraced the color change with a rather regal approach to eveningwear that
Though we can't say the same for the 2019 Emmy categories, there was no shortage of Black excellence on the red carpet. Black love, in particular, was in abundance as some of our favorite Black
Tonight was the time to celebrate the best in TV, but that was far from the only thing that fans were expecting to see. As with every year, the Emmys did not disappoint when it
The two most strikingly dressed men on the Emmys red carpet on Sunday night were James Van Der Beek and Kit Harington. It wouldn't be right to say they had the most arresting clothes-that'd be
More News in Entertainment
Update (October 17, 4:50 p.m.): Director Matt Reeves has confirmed that Paul Dano is indeed playing the Riddler. On Thursday, he tweeted a gif of Dano with the hashtag #EdwardNashton and a bat emoji. The original
Eva Mendes ' daughters know what they like! The actress and fashion designer stopped by The Kelly Clarkson Show Thursday, where she opened up about the classic costume her daughters Amada Lee, 3, and Esmeralda
Paul Rudd is revealing a unique skill. The 50-year-old Clueless star appeared on First We Feast's on Thursday (October 17). PHOTOS: Check out the latest pics of Paul RuddDuring his appearance, Paul ate (vegan) wings of
Kurt Sutter, showrunner of FX's Mayans M.C., has been fired after the network received "multiple complaints" about his behavior, according to The Hollywood Reporter. The outlet said that Sutter, who created the Sons of Anarchy
Are you a Barbie fan? Neither am I. Sales of the 60-year-old doll have been in decline over the last few years, partly because millennial parents have not been thrilled about buying their children unrealistically thin
Image: Matt Baron/Shutterstock. Scarlett Johansson is engaged to Colin Jost and she couldn't be happier - nor more smitten by the utter romance of it all, as the actress told Ellen DeGeneres.