Simmons stars as 76ers open their NBA season by thumping Boston
Ben Simmons and his revamped Philadelphia 76ers have overcome a shaky start to defeat Boston Celtics in their NBA regular season opening game.
The 76ers won 107-93 in Philadelphia.
Melbourne-born Simmons did not attempt a three-pointer but terrorised the Celtics with his traditional game of spectacular dunks and shots from inside the paint.
Simmons had 24 points, eight rebounds and nine assists.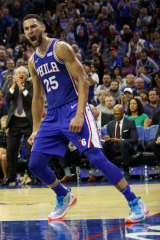 The 76ers lost All-Star Jimmy Butler and three-point specialist JJ Redick in the off-season and added veteran big man Al Horford from Boston and shooting guard Josh Richardson from Miami.
The Celtics led 25-20 at the end of the first quarter and extended their lead by as much as eight, but the 76ers found their groove late in the first half, went on an 11-0 run into the third quarter and controlled the rest of the game.
The 76ers spent big in the off-season by signing Simmons to a five-year, $US170 million ($248 million) contract extension, forward Tobias Harris to a five-year, $US180 million ($263 million) deal and Horford to a four-year, $US109 million ($159 million) contract.
Three-point shooting appears to be a weakness with the departure of Redick. The 76ers connected with just seven of 29 three-point attempts.
thetrending.org sport Simmons stars as 76ers open their NBA season by thumping Boston
Related News
MELBOURNE, Oct 24 (Reuters) - The Philadelphia 76ers' Ben Simmons has opened up on the incident at Melbourne's Crown Casino where he suggested he was subject to racial profiling by security staff. Australian Simmons created
Ben Simmons' first made three as a member of the Sixers was the headline of Philadelphia's exhibition against the Guangzhou Loong-Lions, and the Sixers laid a comprehensive beatdown on their Chinese opponent to start their
PHILADELPHIA - 76ers coach Brett Brown said there were no surprises for the preseason opener Tuesday night. That's the way the Sixers would like to keep it until June 2020. Philadelphia began one of the most anticipated
The moment Philadelphia 76ers fans have been waiting for may finally arrive in 2019-20. BREAKING NEWS: The Philadelphia 76ers' starting point guard and reigning NBA All-Star Ben Simmons will attempt open 3-point shots during the
More News in Sport
There was a different energy in Barclays Center when Irving took the floor for the first time on Wednesday night; an energy that swelled as he scored 25 first-half points and led the
Kyrie Irving scored 50 points on Wednesday, setting an NBA record for a player making his debut for a new team. Unfortunately for the Brooklyn Nets, they needed 52 from their new point guard. Irving's last-second off-balance
Rio de Janeiro (AFP) - Hotshot Gabriel Barbosa scored a brace as Flamengo hammered fellow Brazilians Gremio 5-0 on Wednesday to secure a place in the Copa Libertadores final against Argentine holders
Kyrie Irving scored 50 points in a record-setting Nets debut, but lost his balance and missed a potential winning shot that allowed the Minnesota Timberwolves to pull out a 127-126 victory over Brooklyn in overtime
Gabriel of Brazil's Flamengo celebrates after scoring his side's 3rd goal during a Copa Libertadores semifinal second leg soccer match against Brazil's Gremio at the Maracana stadium in Rio de Janeiro, Brazil, Wednesday, Oct. 23,