VIDEO: Tua Tagovailoa Limps off Field and Exits Game After Getting Sacked by Tennessee Defender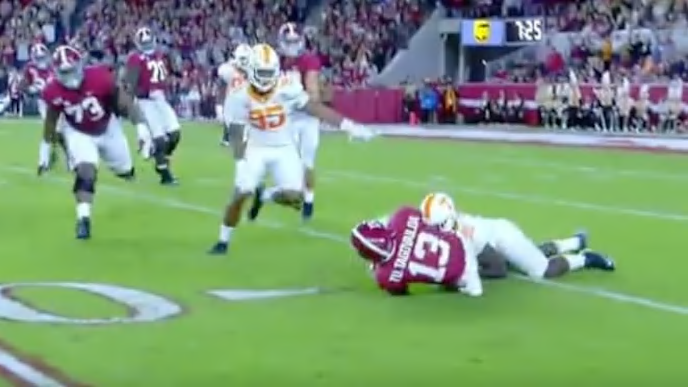 Injuries are beginning to pile on in Tuscaloosa. Star quarterback Tua Tagovailoa was taken down by a Tennessee defender, who wrapped him up around the ankles for a sack. Tagovailoa appears to have suffered a possible injury on the play, as he limped off the field following the hit.
He was then seen walking towards the medical tent with a bit of a limp, and commentators suggested that he may have injured his ankle on the sack.
After being briefly examined in the medical tent, and replaced in the game by Mac Jones, Tagovailoa was then spotted limping slowly with medical staff towards Alabama's locker room.
This is certainly not the news Bama fans were hoping for, right in the middle of what is a potential Heisman season for their star quarterback.
It's definitely a positive sign that Tagovailoa was able to walk off under his own power, but the fact that he was sent to the locker room for further examination doesn't bode well for his return in this one.
We'll provide updates as they become available.
thetrending.org tennessee VIDEO: Tua Tagovailoa Limps off Field and Exits Game After Getting Sacked by Tennessee Defender
Related News
COLLEGE STATION - More than 106,000 fans packed Kyle Field on a cool Saturday afternoon on the Texas A&M campus. Thousands more milled about the stadium's surroundings, watching on satellite televisions or listening on the
Alabama quarterback Tua Tagovailoa entered Saturday's game against No. 24 Texas A&M with no interceptions on the season, but the turnover-free streak ended late in the second quarter. With the Crimson Tide on the verge of
Tua Tagovailoa is currently in the midst of one of the most prolific passing seasons in college football history. For that reason, one sports book in Vegas believes the Alabama quarterback in the Heisman favorite. In
CLOSE The Heisman Race has become a three-man shell game. The same three quarterbacks have shuffled in the top three for four consecutive weeks. Alabama's Tua Tagovailoa, Oklahoma's Jalen Hurts and Louisiana State's Joe Burrow
TUSCALOOSA, Ala. -- Alabama quarterback Tua Tagovailoa set the all-time school record for touchdowns on Saturday against Ole Miss with 81 now in his career. The junior surpasses the mark set by former Tide signal-caller
TUSCALOOSA, Ala. -- With a 7-yard rushing touchdown in the second quarter of the Ole Miss game, quarterback Tua Tagovailoa is now Alabama's all-time leader in career touchdowns. That's a tough touchdown trot by Tua Tagovailoa.
Tua Tagovailoa just set another Alabama record. The superstar quarterback scrambled to score the team's second touchdown of the day, to put the Crimson Tide up 14-10 on Ole Miss. Earlier in the game, he
If you want to go into Tuscaloosa and upset Alabama, you better get off to a good start on both sides of the ball. Well, that didn't happen for Ole Miss, as they
More News in Tennessee
CLOSE SportsPulse: Paul Myerberg gives us his opinion on which players over the course of college football's history may have been snubbed for the Heisman Trophy. USA TODAY Disaster struck for No. 1 Alabama
No. 1 Alabama lost its shining star on Saturday night. Reigning SEC Offensive Player of the Year and 2018 Heisman Trophy finalist Tua Tagovailoa injured his ankle on while escaping pressure against Tennessee in the
Alabama quarterback Tua Tagovailoa was pulled from Saturday's game against Tennessee after appearing to hurt his ankle while being pulled to the ground by a defender. A limping Tagovailoa was seen heading into
Bryant-Denny Stadium fell silent when Tua Tagovailoa limped to the sideline in the second quarter of Alabama's game with Tennessee. Sacked on a first down play, he remained in the game for a five-yard pass to
The entire Alabama fan base is holding its collective breath as Tua Tagovailoa appears to be dealing with an ankle injury again. Tagovailoa got his ankle rolled up on